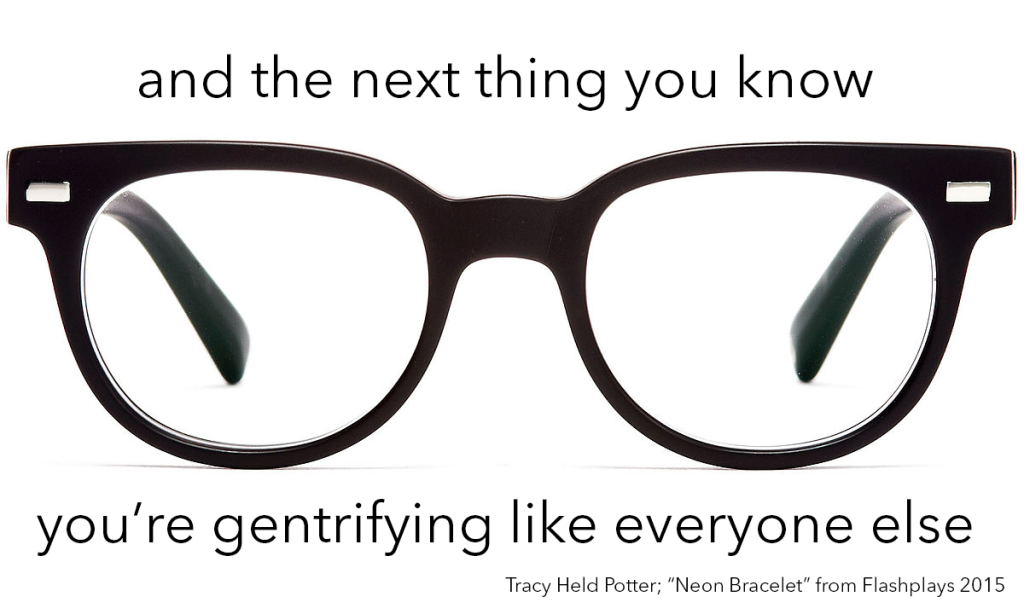 I was very honored to be invited to participate in the Playwrights Foundation's FlashPlays festival this year. Below is "Neon Bracelet," one of three micro plays that I wrote for this event. This piece was directed by Rem Myers and performed by JD Scalzo and Radhika Rao.

NEON BRACELET
A short play
By: Tracy Held Potter

Setting: Apartment in the San Francisco Mission.
Characters:
WOMAN (f, 30s) – tech project manager
MAN (m, 30s) – computer developer
[WOMAN and MAN lounge on the couch with their respective laptops.]
MAN
Bam! Work day is officially over!
[WOMAN shuts her laptop.]
WOMAN
Did you actually do any work?
MAN
That's between me and my supervisor.
WOMAN
So. What are we doing for date night tonight?
MAN
(seductively)
Oooh… how about we Netflix and Chill?
[They kiss.]
WOMAN
How about we go out?
[MAN strokes Woman's arms.]
WOMAN (cont.)
I heard that new place Neon Bracelet is good.
MAN
You mean that bar on Valencia with the life-sized cutouts of Ferris Bueller?
WOMAN
(pulling away)
Nevermind.
MAN
We had one rule when we moved to the Mission: no hipster places.
WOMAN
I just…
MAN
It's a slippery slope, Babe. You go to Neon Bracelet tonight, then you think, "Oh, there's nothing wrong with this place." And the next thing you know, you're gentrifying like everyone else.
WOMAN
We're already gentrifying. This way, we can stay in our neighborhood and save on the Uber. I'm tired of pretending to be someone I'm not. I want to go to a bar with expensive drinks where people dress nicely and they project 80's cartoons on the wall.
MAN
Like what?
WOMAN
GI Joe. Smurfs. Fraggle Rock.
MAN
Fraggle Rock?
[WOMAN nods.]
MAN (cont.)
It's just once.
[MAN and WOMAN hop up and down and run offstage, holding hands. End of Play.]