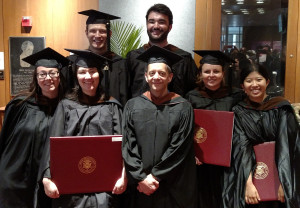 It's official! I earned my Dramatic Writing MFA at Carnegie Mellon University on Sunday and  now I'm working on putting together my full-length play commission for the Loud and Unladylike Festival through DivaFest at The EXIT Theatre in San Francisco, preparing for a live screening of the entire season of my web series Merritt Squad at PianoFight, and producing two shows for All Terrain Theater, including Women in Solodarity: Waking Up and Six Monsters: A Seven-Monster Play.
Some of the projects that I completed or had performed during my two-year MFA program include:
Science Fair the Musical (full-length screenplay, winner of the Alfred P.  Sloan Screenwriting Competition at CMU)
Plastic Nest (full-length stage drama)
Ninja Scientist (one-hour TV action comedy)
Merritt Squad (8-episode web series)
Newbie Sally (short opera comedy performed by Opera Theater of Pittsburgh)
Last Night in the Hague (20-minute opera co-written with Wei He and composed by Chung Wan Choi)
Status Update (1-minute play performed at the SF Playwrights Foundation's One-Minute Play Festival)
Fashion Foes (8.5 minute short film; to be posted soon!)
Around the Globe (10-minute stage comedy)
Public Transportation (10-minute stage drama)
Student Bake Sale (30-minute stage comedy)
Friends or Maidens (10-minute film comedy)
Alexis, the Bronze-Age Warship (10-minute stage comedy, staged reading at the SF Olympians Festival)
The Sword (6-minute drama, staged reading at the SF Olympians Festival)
Wrote a spec script for the TV drama "Masters of Sex"
The Dinner Project (short media film designed by Dave Yen and Danni Zhang)
Bonus:
Princess Audrey (People's Choice Award winner and finalist for the Best of PlayGround festival in 2013) received a staged reading at True False Theater in New York City.
It's been quite a busy couple of years! I've definitely learned a lot about what I didn't know and am excited to apply my knowledge to cleaning up my existing scripts and developing more projects for film, TV, and the stage (including opera!).